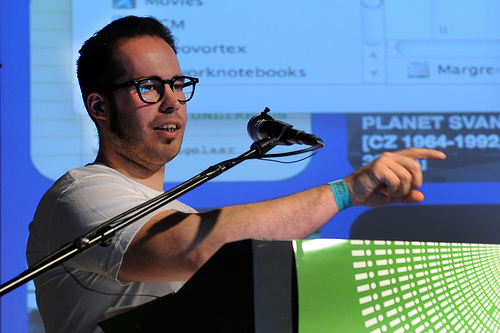 Programme Director Media Design at Victoria University of Wellington, New Zealand
Co-founder of SAM, an AI Politician
Walter Langelaar is an artist and researcher whose work in media arts and design questions our digitally networked cultures and infrastructure through sculpture, installation, online performance and critical intervention. Walter studied Fine Art at the AKI in Enschede, graduating with a double major in Conceptual Art and New Media Art, before continuing his studies in Media Design (MA) at the Piet Zwart Institute in Rotterdam, under supervision of Matthew Fuller and Florian Cramer.
In 2017, he co-founded SAM, an AI Politician, which aims to raise awareness as well as pose critical perspectives on AI cloud infrastructure, blockchains and social media mining while contextualising these tools in relation to contemporary Internet culture, political science and e-governance. His broader research agenda is concerned with the plethora of recording devices employed in the post-Snowden spheres of networked interaction design, and how we may subvert the use of these devices from their initial states of surveillance towards new modes of awareness and cultural relevance.
Walter's work is shown in numerous venues across the European and international media arts scene such as transmediale and CTM, Videotage, Medialab Prado, DEAF and v2, FILE Festival, Ars Electronica, iMAL, Montevideo/NiMK, Piksel.no, and in more traditional art institutes such as MuseumsQuartier Vienna, the Hammer Museum, Dokumenta, Jeu de Paume, Casino Luxembourg, Museo del Traje and Kunsthallen Nikolaj. Walter received several awards for his personal and collaborative projects, including the Internet Society (ISOC) award for 'Internet and the Arts', Rene Coelho award, Prix Ars Electronica and the Virtueel Platform 'Best Practice Award'.