On December 4, 2018, insights and potential solutions to address AI issues in Government will be provided by well-known experts and thought leaders in the panel session. This is a component belonging to a 3-day event in Boston – the upcoming AI World Conference and Expo 2018 and is considered the largest independent enterprise AI business event in the world, with over 100 sessions, 200 speakers and 85 sponsors and exhibitors.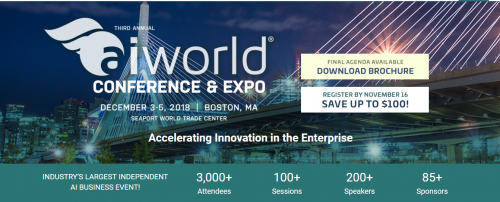 The first panel of the second day of the event will discuss the topic of AI in Government. As IT-based enterprise organizations deploy intelligent automation across their business and industries, the opportunity emerges for federal, state, and local government agencies to become fast-followers. Whether in the pursuit of delivering enhanced services to constituents, increasing worker productivity, reducing operational cost, or merely accelerating the digital transformation efforts underway within the agency. Attendees to this panel will hear:
How agencies are utilizing automation and machine learning to improve service delivery and response time
The unique challenges faced by public sector IT organizations compared to private enterprise
The evolving discussion around AI ethics, safety, and regulatory requirements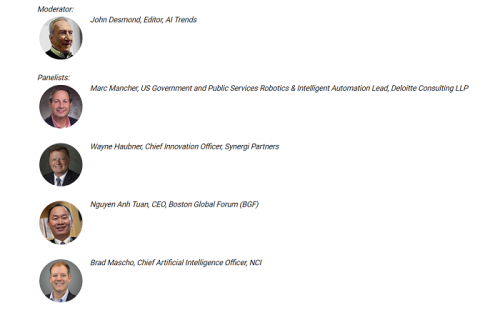 Panel board of AI in Government Section at AI World Conference and Expo 2018
This session is going to be moderated by John Desmond, Editor of AI Trends, with the presence of Marc Mancher, US Government and Public Services Robotics & Intelligent Automation Lead, Deloitte Consulting LLP; Wayne Haubner, Chief Innovation Officer, Synergi Partners; Brad Mascho, Chief Artificial Intelligence Officer, NCI. Mr. Nguyen Anh Tuan – CEO of Boston Global Forum (BGF) will also attend this panel session and share about the concepts of AI-Government, which the Michael Dukakis Institute has been developing and which belongs to the Artificial Intelligence World Society (AIWS) Model.