From December 3rd to 5th, AI World Conference and Expo 2018 will take place in Boston, the three-day conference will discuss AI strategy and applications involved with several concerns such as Implementing Enterprise AI, AI in Healthcare, Pharma or Cognitive Computing, etc.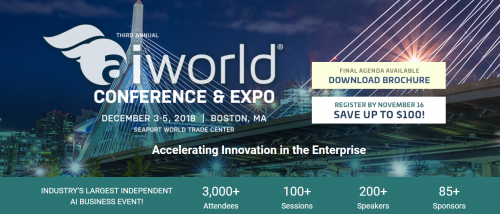 As AI becomes an essential part of our daily lives, it is important to keep track of the changes and developments of emerging technology. This year, expanding the collaboration with key international hosts and sponsors such as the Canadian government, the Michael Dukakis Institute, XPRIZE, MIT CSAIL, IDC, MIT Sloan Management Review, and many others, AI World Conference and Expo will be held for the third time with the aim of implementing and developing AI for businesses and leaders.
The conference is set out to inform business executives about AI innovations with its implementation, enabling leaders to build strategies for their companies, as well as optimize costs and grasp new opportunities.
The three-days conference is expected to give attendees the opportunity to explore various angles of AI implementation in healthcare, pharma, medicine, and specific business strategies.
Governor Michael Dukakis, Chairman of the Michael Dukakis Institute for Leadership and Innovation (MDI) and the Boston Global Forum will attend this special event and give an opening remark at AI World Conference and Expo 2018. Currently, MDI is collaborating with AI World to publish reports and programs on AI-Government, including AIWS Index and AIWS Products.
More information: https://aiworld.com/