AI World Conference and Expo on "Accelerating Innovation in the Enterprise", December 3-5, 2018 in Boston is focused on the state of the practice of AI in the enterprise. The 3-day conference and exposition are designed for business and technology executives who want to learn about innovative implementations of AI in the enterprise through case studies and peer networking.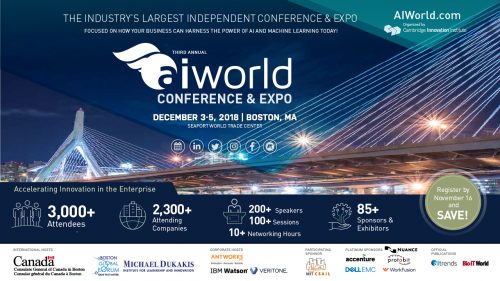 As enterprises begin to scale AI pilot programs, which often incorporate deep learning (DL), machine learning (ML), and natural language processing (NLP), across the enterprise, the need for a high-performance compute and storage environment becomes clear. High Performance Computing (HPC) environments, with their massive processing capability and low-latency access to data, are seen by many observers as a clear complementary technology to AI. This panel workshop will provide the information on these following sub-topics:
What are the top AI use cases that are likely to be powered by HPC systems now, and in the future?
What technological and operational challenges exist with deploying HPC systems that can support AI pilot programs or full-scale rollouts?
What operational models are enterprises using to deploy AI technology that is powered by HPC?
What security and regulatory issues need to be considered when using HPC systems to power AI use cases?
The panel will take place under the moderation of Keith Kirkpatrick, Principal Analyst, Tractica with the presence of the following panelists:
Christopher Carothers, PhD, Technology & Academic Advisor, Research & Development, Lucd
Gary Tyreman, CEO, Univa
Margrit Betke, PhD, Professor of Computer Science, Boston University
The Michael Dukakis Institute for Leadership and Innovation is an international sponsor of the event and is collaborating with AI World to publish reports and programs on AI-Government including AIWS Index and AIWS Products.
Please join Governor Michael Dukakis, honorary advisory board member and a featured guest speaker, on Tuesday, December 4 at 8:55 am along with thousands of global 200 business executives at AI World.
For more information about the event, visit aiworld.com.
To register and receive a $200 discount off of a 2-3 day conference registration, click here and enter priority code 186800MDI.
To receive a complimentary pass to attend the expo, click here and enter priority code 186800XMDI.