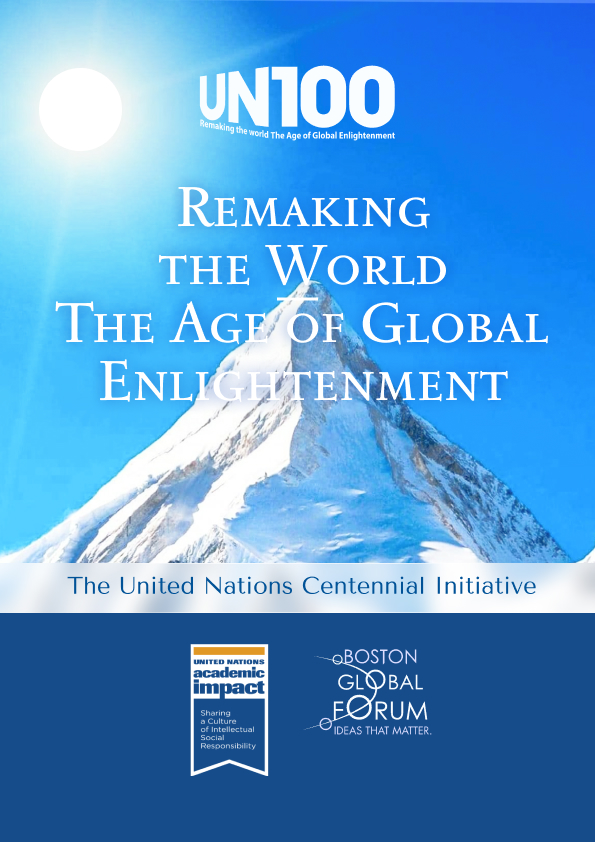 Boston – New York, July 1, 2021
Today, July 1, 2021, the book "Remaking the World – The Age of Global Enlightenment" is officially delivered. This book is a collaboration between the Boston Global Forum (BGF) and the United Nations Academic Impact (UNAI) as a part of the United Nations Centennial Initiative. The official announcement of the book was organized on May 27, 2021.
The book proposes pathways toward a more humane, peaceful, and secure world, largely by harnessing the potential of Artificial Intelligence (AI), blockchain, and other Digital Age technologies. A key proposal is the adoption of an AI International Accord that would bind nations to constructive uses of AI and prohibit destructive uses. The book proposes a Social Contract for the AI Age as the theoretical and ethical foundation of the Accord. The book also proposes the AI World Society (AIWS) as a vehicle through which individuals and civic organizations can help foster an Age of Global Enlightenment.
AIWS seeks to create an AIWS Ecosystem that empowers citizens to create value for themselves, for others, and for society through the application of artificial intelligence, digital, blockchain, and data science technologies. It is a sharing ecosystem that rewards both the creators and users of these technologies, as well as an ecosystem that encourages innovation. It breaks down the hierarchies that traditionally have created unequal power relationships, paving the way to a sharing society. It recognizes the value of every citizen, as well as every citizen's creative potential.
Governor Michael Dukakis, Co-founder and Chair of Boston Global Forum, states that "the book is significant contribution of BGF and UNAI to shape peace, security, and prosperous world in the AI and Digital Age. Thank Editor Nguyen Anh Tuan for his excellent work for this book and the United Nations Centennial Initiative as well as AI World Society (AIWS)."
Ramu Damodaran, Chief of the United Nations Academic Impact and Co-Chair of the United Nations Centennial Initiative, said on the May 27, 2021, book launching event, "The United Nations Academic Impact is proud to join the Boston Global Forum in an initiative that looks to the 2045 centennial as an opportunity to reframe the possibilities inherent in the United Nations while remaining true to the power of its promise a century earlier."
Nguyen Anh Tuan, CEO of Boston Global Forum and also a driving force in this initiative, expresses that "This path will require concerted action by governments, individuals, organizations, and firms. Each must be a source of innovation, and each must adhere to AIWS standards and values. Together, we can remake the world and usher in an Age of Global Enlightenment.  I am grateful to the leaders and thinkers whose ideas inform the book. A special thank you is due to Ramu Damodaran for his support of the book project; Governor Michael Dukakis, who heads the Boston Global Forum and has inspired much of my work".
Professor Alex Sandy Pentland, contributing two chapters of this book, said "Perhaps the main force driving the deployment of interledger technology is the need to repair the world's tattered finances. This suggests that a new "Bretton Woods" multilateral effort is required, with the goal of establishing interfaces, methods, and exchange standards for digital transaction platforms."
Distinguished contributors to the book include:
Shinzo Abe, Prime Minister of Japan
Ash Carter, Former US Secretary of Defense
Vint Cerf, "Father of the Internet", Google
Nazli Choucri, Massachusetts Institute of Technology (MIT)
Ramu Damodaran, Chief of United Nations Academic Impact
Michael Dukakis, Former Governor of Massachusetts, Chair, Boston Global Forum
Eva Kaili, Member of the European Parliament
Robin Kelly, U.S. Representative (Illinois),
Ban Ki-moon, the United Nations Secretary-General
Didzis Kļaviņš, University of Latvia
Taro Kono, Defense Minister, Japan
Zlatko Lagumdzija, Former Prime Minister, Bosnia & Herzegovina
Stavros Lambrinidis, EU Ambassador to the United States
Ursula von der Leyen, President of European Commission
Yasuhide Nakayama, Defense State Minister, Japan
Paul Nemitz, Principal Advisor, European Commission
Nguyen Anh Tuan, CEO, Boston Global Forum
Andreas Norlén, Speaker, Swedish Parliament
Joseph Nye, Harvard University
Zaneta Ozolina, University of Latvia, Co-Chair of Riga Conference
Thomas Patterson, Harvard University
Judea Pearl, University of California, Los Angeles (UCLA)
Alex "Sandy" Pentland, Massachusetts Institute of Technology (MIT)
Sir Iain Duncan Smith, MP, UK Parliament
Vaira Vike-Freiberga, President of World Leadership Alliance-Club de Madrid, Former President of Latvia
The book is free to download from July 15, 2021, at  https://un100.net/books-un/
or at https://bostonglobalforum.org/publications/ai-world-society/
or send email to [email protected]
About
The United Nations Academic Impact (UNAI) is an initiative of the United Nations that aligns institutions of higher education with the United Nations in supporting and contributing to the realization of United Nations goals and mandates, including the promotion and protection of human rights, access to education, sustainability and conflict resolution.
Since 2010, UNAI has created a vibrant and diverse network of students, academics, scientists, researchers, think tanks, institutions of higher education, continuing education and educational associations. There are over 1400 member institutions in more than 147 countries that reach over 25 million people in the education and research sectors around the world representing a global diversity of regions and a thematic wealth of disciplines.
The Boston Global Forum (BGF) Boston Global Forum (BGF), based in Boston, Massachusetts, was founded to bring together thought leaders and experts from around the globe to participate in open public forums to discuss and solve the most critical issues affecting the world. BGF counts on the important engagement of political leaders, innovators, and top academics from Harvard, MIT and AIWS.net in the development of its work. Some of its most significant Initiatives are the Social Contract for the AI Age, the AIWS City (AIWS.city), and the AI Social Contract Index.
The United Nations Centennial Initiative is an initiative of United Nations Academic Impact that belongs to the United Nations with collaboration by the Boston Global Forum.
The United Nations Centennial include roundtables, ideas, concepts, solutions, essays, and reflections looking ahead to the global landscape in 2045, when the United Nations completes its first centenary, in areas of these technologies, including artificial intelligence, cyber security and weapons systems, among others. Such a compilation which looks both to the horizon ahead and the role of the United Nations in making it beneficial and secure, would be timely.
CONTACTS
Editors and Reporters please contact Mr. Tuan Anh Nguyen, Editor of the book "Remaking the World – The Age of Global Enlightenment", Co-founder and Chief Executive Officer of The Boston Global Forum: [email protected], Tel., Viber, Whatsapp: +1 617 286 6589