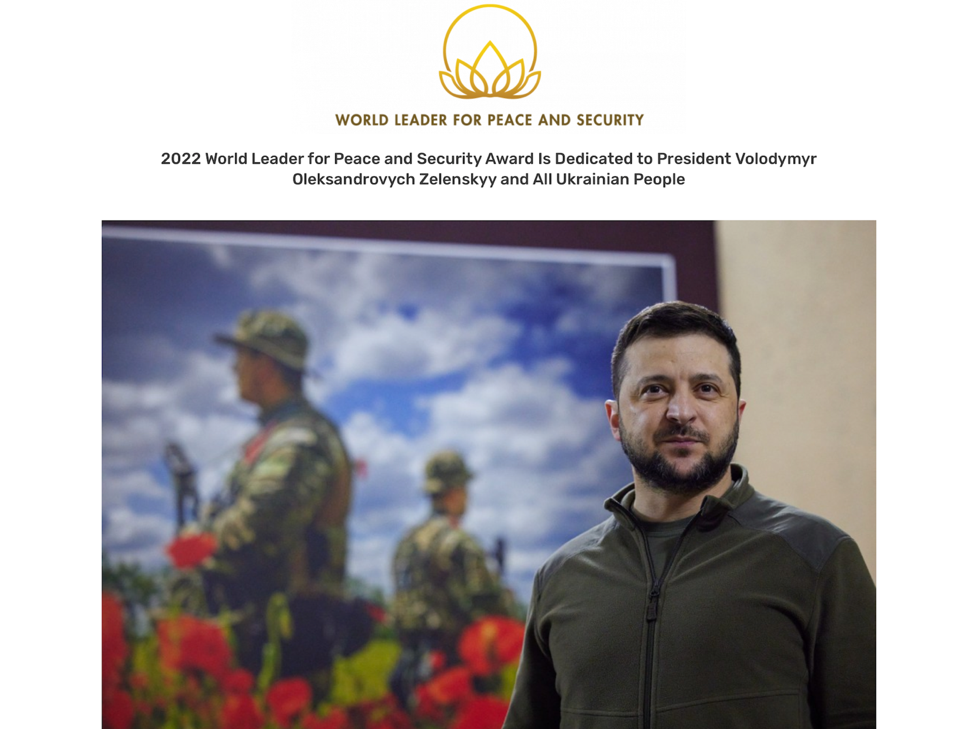 Boston Global Forum Plans To Host April 29 Conference
Chris Lisinski 4/4/22 9:30 AM, State House News Service
APRIL 4, 2022… Former Gov. Michael Dukakis and his leadership institute have already honored heads of state and international figures such as former Japanese Prime Minister Shinzo Abe, former German Chancellor Angela Merkel, and former United Nations General Secretary Ban Ki-Moon.
And when it came time to select the latest dignitary to receive the "World Leader for Peace and Security" award, Dukakis felt there was no debate. All he had to do, after all, was turn on the news.
The Boston Global Forum and the Michael Dukakis Institute this month plan to present Ukrainian President Volodymyr Zelenskyy with the annual award, honoring him for poise in the face of a Russian invasion that the former Massachusetts governor condemned as "madness."
With the award, Dukakis said, the constellation of Boston-based experts in the institute hope to recognize "not only bravery, but the kind of leadership we need in this world of ours."
"To introduce this (war) at this time, in a completely unprovoked way, is completely unacceptable," Dukakis told the News Service in a phone interview. "The sheer bravery of this guy in doing what he's been doing, not only risking his own life but the lives of others and mobilizing that community in the face of just brutal offensive attacks — it's completely extraordinary."
Zelenskyy, a former actor and comedian who handily won election as president of Ukraine in 2019, soared to new prominence on the global stage when Russia's military invaded his country in late February.
His interviews have been broadcast worldwide, and Zelenskyy's videotaped messages — sometimes filmed himself, usually depicting him remaining on the ground alongside his fellow Ukrainians — have been seen by millions.
"We're appalled at what has happened," Dukakis said. "We're enormously impressed by the bravery of the Ukrainian people and not only the president, but thousands of them which seem to have stopped the Russians in their tracks."
On Wednesday, Dukakis called on "students, scholars, and all alumni and alumnus of all universities throughout the world to support the students in Ukraine." The Boston Global Forum launched a website to connect Ukrainian students with professors who could help advise and educate them.
Zelenskyy's award will feature at an April 29 conference BGF and the Latvian Transatlantic Organization plan to host, titled "Laurel for Peace and Security in Ukraine," to convene political leaders and academic experts from Harvard University and the Massachusetts Institute of Technology.
The former governor said he believes Massachusetts has demonstrated a "very broad base of support for Ukraine and its president and its people." One of his own friends and neighbors, Dukakis said, is an immigrant from Ukraine who has proudly flown his home nation's flag at his house.
Altogether, Dukakis said he hopes the visible and vocal backing for Zelenskyy and his nation will ramp up the pressure on Russian President Vladimir Putin to halt the war.
"Let's hope that that's getting through to Putin and company to end this madness," Dukakis said.
A Brookline native who was Democratic Party's nominee for president in 1988, Dukakis praised President Joe Biden's response to the war, saying Biden has "exercised real leadership" and "pulled the world community together" in support of Ukraine.
Asked if he agreed with Biden's argument that Putin "cannot remain in power," Dukakis said he does but that "how it's implemented is an interesting question."
"Needless to say, at this point, what we ought to be doing is just try to rise together, get him and whoever it is who's advising him to end this madness and to come up with a solution, which Ukraine has already laid out," Dukakis said. "If Putin is serious about this whole thing, he should get deeply and actively involved in settling it in a way that makes sense but preserves Ukraine's independence and its ability to chart its future."
Dukakis said the Boston Global Forum would try to have Zelenskyy appear remotely at the group's event to receive the award. At a minimum, Dukakis said, he hopes to welcome Ukrainian ambassador to the U.S. Oksana Markarova in person.
"We sincerely thank the BGF Board for honoring President Zelensky and all Ukrainian people the 2022 World Leaders for Peace and Security Award," Markarova said in a statement provided by the Boston Global Forum. "We take it as acknowledgement of outstanding bravery and exemplary leadership, demonstrated by our Head of State, his government and military personnel under the challenging and daring times of Russia's unprovoked attack on our sovereign nation."