In the UN Public Service Forum 2018, held in Marrakech, the former President of Mauritius, Cassam Uteem, presented ideas about how the World Leadership Alliance- Club de Madrid 's project- Shared Societies can inspire the implementation of Agenda 2030.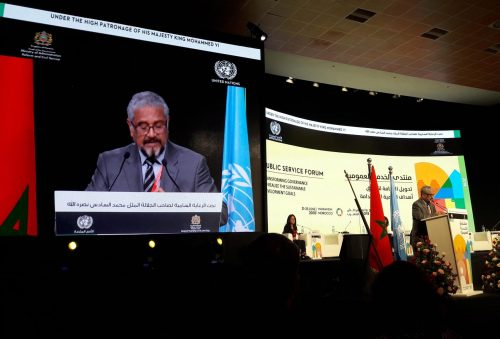 World Leadership Alliance-Club de Madrid (WLA-CdM) is an organization which has been working closely with BGF and MDI in developing the AIWS 7-Layer Model to build the Next Generation Democracy. Recently, President Uteem – Member of the WLA-CdM, took part in the debate about Public Service. In the opening of the UN Service Forum 2018, he shared his view about the role of public servants under the title "What governance for the Sustainable Development Goals (SDGs)?"
Around 600 to 800 participants – Ministers, senior government officials, mayors, representatives from civil society and those from international as well as regional organizations, etc. participated in this forum to discuss paths for transformation and innovations of governments and institutions. President Uteem put special emphasis on the diversity of cultures in public service – the key to foster an implementation of SDGs.