On December 12, 2018, the Global Cybersecurity Day 2018 will take place at Loeb House, Harvard University under the moderation of Governor Michael Dukakis, Chairman of Boston Global Forum (BGF) and Michael Dukakis Institute (MDI).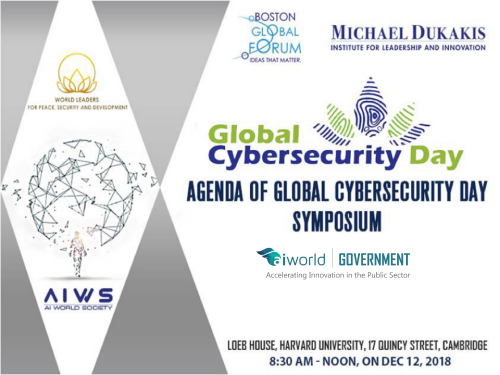 Since the internet boom over the last decade, we have witnessed a significant change in our daily lives as well as how businesses have changed. This has been proved to be greatly beneficial, however, it poses threat to our privacy and safety.
The Global Cybersecurity Day was created to inspire the shared responsibility of the world's citizens to protect the Internet's safety and transparency. During the discussion, experts will explore the current state of cybersecurity and the threat posed by disinformation, anonymous sources and fake news as well as the role AI can play as an effective defense mechanism against these threats to truth and the principles of democracy.
The upcoming Global Cybersecurity Day is going to be held at Loeb House, Harvard University, 8:30 am – 12:00 pm, December 12, 2018. The moderator is Governor Michael Dukakis, Chairman of BGF and MDI.
Governor Michael Dukakis will announce the recipient of World Leader for Peace and Cybersecurity Award 2018.
The Minister of Foreign Affair of Japan Taro Kono will give a speech on cybersecurity and disinformation.
The keynote speaker, the AI World Society Distinguished Lecturer is Liam Byrne, Member of Parliament, and Shadow Digital Minister of the United Kingdom. The Agenda of Global Cybersecurity Day follow.