ALERT TO MEDIA: Coverage is invited.
To Register Contact: Dick Pirozzolo [email protected] or 1-617-959-4613
Vinton Cerf, one of the Fathers of the Internet, to receive World Leader in AI World Society Award   
at AI World Society – G7 Summit Conference at Harvard University on April 25
He will speak on "Artificial Intelligence and the future of the Internet,"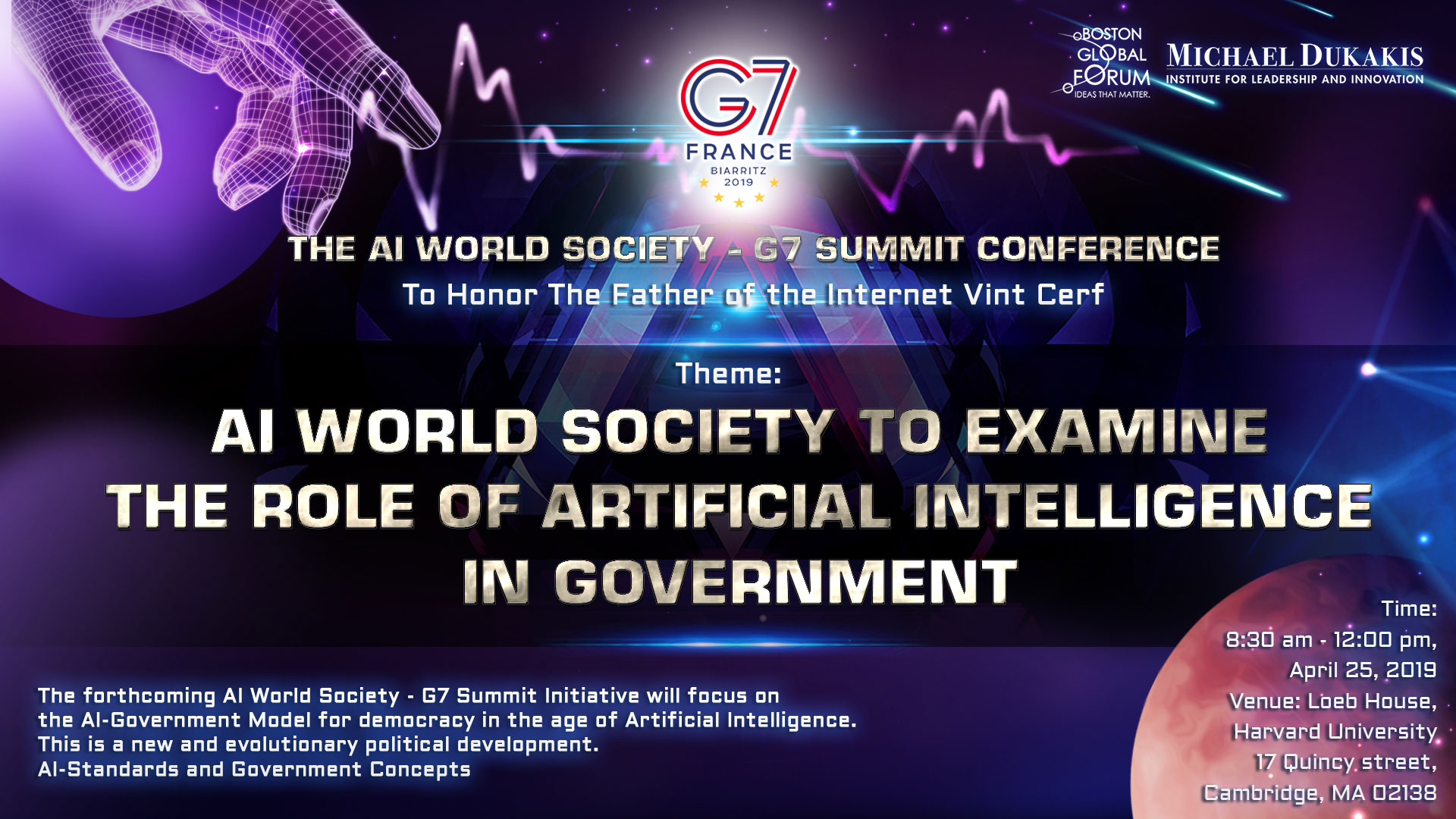 AI World Society (AIWS) will host Vinton Cerf, a Father of the Internet, as part of its commitment to offer fresh ideas from the world's most brilliant minds to the next G7 Summit to be held in Biarritz, Nouvelle-Aquitaine, France.
Cerf will speak at the AI World Society Symposium on AI-Standards and Legal Concepts:
8:30 am – 12:00 pm, April 25, 2019
17 Quincy Street, Cambridge, Massachusetts 02138
Advance registration is required for press credentials
Cerf, the Father of the Internet: Honored as World Leader in AI World Society (AIWS)
According to his biography by the Internet Hall of Fame Vinton G. Cerf, codesigned the TCP/IP protocols and architecture of the Internet, and once served as Chairman of Internet Corporation for Assigned Names and Numbers (ICANN).
Also, as vice president and chief Internet evangelist for Google since 2005, he is responsible for identifying new enabling technologies to support the development of advanced, Internet-based products and services from Google and is a public face for Google in the Internet world.
Cerf is the former senior vice president of Technology Strategy for MCI, where he helped guide corporate strategy development from the technical perspective. Previously, Cerf served as MCI's senior vice president of Architecture and Technology, leading a team of architects and engineers to design advanced networking frameworks including Internet-based solutions for delivering a combination of data, information, voice and video services for business and consumer use.
Among those participating will be Governor Michael Dukakis, who will deliver the Opening Remarks
Arnaud Mentré, Consul General of France in Boston The French Perspective on Artificial Intelligence and the G7 Summit, which will be held in France on August 25–27, 2019.
Also speaking are:
Professor Thomas Patterson: AI World Society – G7 Summit Initiative
Professor Matthias Scheutz: Concepts for AIWS Standards
Paul Nemitz: Legal Concepts for AI – Layer 4 of AI World Society.
AI WORLD SOCIETY (AIWS) was created by The Boston Global Forum (BGF) to examine issues and developments centering on the role of AI in society.
The Boston Global Forum (BGF) is a not-for-profit think tank based in Boston, Massachusetts. Its mission is to bring together, in an open and accessible public forum, an eclectic and engaging spectrum of esteemed academic leaders, real-world experts, thought leaders, media experts and promising young leaders, who are dedicated to seeking peaceful solutions to the most contentious issues of our times.
An offshoot of The Boston Global Forum, The Michael Dukakis Institute for Leadership and Innovation (MDI) was born in 2015 with the mission of generating ideas, creating solutions, and deploying initiatives to solve global issues, especially focused on Cybersecurity and Artificial Intelligence.
Further details are available by contacting Mr. Tuan Anh Nguyen, Co-founder and Chief Executive Officer of The Boston Global Forum, and Director of The Michael Dukakis Institute for Leadership and Innovation.
Mr. Nguyen may be reached at [email protected].