Japanese Prime Minister Shinzo Abe and German Chancellor Angela Merkel exchanged views on promoting bilateral security and economic cooperation in the recent meeting.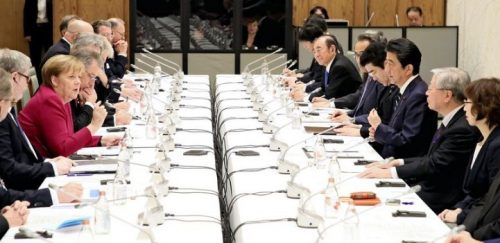 In a press conference held after talks with Abe, Merkel made clear her support for realizing a "free and open Indo-Pacific". According to her, the scheme also concerns the territorial ambitions of China. Japan also strengthens its relationship with Germany to share awareness of China.
In past years, Germany is thought to have valued relations with China. This time, the German Chancellor only visited Japan. This shows that the country is maintaining a suitable distance with China.
On the other hand, Abe and Merkel confirmed that the two countries would strengthen a joint study on artificial intelligence (AI) and self-driving cars. Both Japan and Germany are concerned about China increasing its ability to dominate the market in the IT field.
Abe and Merkel attended a meeting of business leaders from both countries after the summit talks on Monday. In the era of 5G – the next generation mobile network technology, Merkel raises questions of preventing the Chinese administration from collecting and exploiting huge amounts of data.
In 2015, Boston Global Forum has named Germany's Chancellor Angela Merkel as the recipients of the World Leader for Peace, Security and Development Award. Japan's Prime Minister Shinzo Abe was named as a recipient of The World Leader in Cybersecurity Award, which is granted to an individual whose outstanding contributions have led to the advancement of cybersecurity by Boston Global Forum, in the same year.